Effective Pigmentation Treatment
Kuala Lumpur & Selangor Clinic
Pigmentation is one of the most common problems that patients seek advice from at our clinics in KL and PJ.
Our team is well experienced to answer any of your queries on your skin and pigmentation issues.
Our clinic is also equipped with state of the art skin analysis program which can help accurately diagnose your skin pigmentation before treatments are deployed to the skin.
Customised skin treatment is also available to fit each patient's requirement and expectations.
Let's Dive into Pigmentation:
What Is it and How Does It Affect Our Skin?
Pigmentation is one of the commonest problems that patients seek advice from at our clinic in KL and PJ. It can cause patients to look older than their actual age, and even mess with your self-esteem and experience emotional instability.
But fret not, our team of experts in Sliq Clinic got your back!
Don't let pigmentation hold you back from feeling confident and looking your best.
Equipped With Latest Technology
Effective Skincare Products & Supplements
What Causes pigmentation?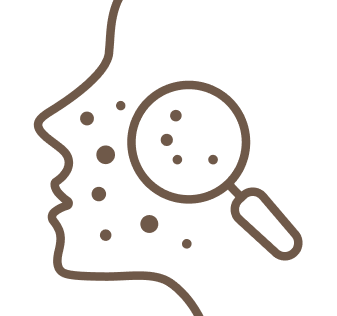 MELASMA
This type of pigmentation usually looks like the brownish patches in an area of the skin,
Melasma generally occurs in women who can easily get tanned skin when basking in the sun.
SUNSPOT
These spots are also often associated with a pigmentation called "Solar Letingines" which changes the skin colour to brown.
FRECKLES
Freckles have a smaller shape and the colour tends to be light to dark brown.
POST-INFLAMMATORY HYPERPIGMENTATION
PIH appears after an injury or inflammation such as acne, eczema, or other wounds.
PIH is shaped like a wound and tends to be reddish or pink in colour.
Want to learn more about how we can help? Click that "Contact Us" button and lets chat.
We utilise state of the art skin analysing technology to help you understands your skins further and let us accurately diagnose, treat and follow up with your ongoing treatments.
Advantages of using skin analysis includes:
We utilise state of the art skin analysing technology to help you understands your skins further and let us accurately diagnose, treat and follow up with your ongoing treatments.
Advantages of using skin analysis includes:
Accurately Identify Pigmentation Types And Layers
Detect Any Vascularity Problems On Skin
Records Skin Textural Smoothness & Scientific Recording Of Skin Hydration Levels
First step is to accurately identify the pigmentation each patients is facing, by preforming skin analysis on the patient's skin.
Through series of photography, we can reveal any pigmentation present on the epidermis or dermis. Only through an accurate and precise diagnosis, then treatment can only be carried out effectively.
We firmly believe that a combination of treatments, skincare, and oral supplements can be used to effectively treat and prevent the recurrence of stubborn pigmentation.
" INVESTING IN YOUR SKIN IS THE BEST DECISION AS IT
WILL REPRESENT YOU FOR A LONG TIME. "
Why choose Sliq Clinic
for Pigmentation Treatment?
Specialised in Treating Pigments
We combine effective and safe laser technology, with medical grade skincare for maintaining the result. We are registered under the Ministry of Health. Our clinic is KKM compliant and run by a group of experienced and LCP ceritified doctors.
Wide Range of Treatment Options
At Sliq Clinic, we tackle scar cases with multimodality approach that include treatment options such as Fotona Starwalker PQX Picolaser (USA, EU), Skinbooster, Revlite and Medlite C6 (USA) lasers and Chemical Peels.
Suitable for All Skin Types
Each treatment combination is done based on type of scars on patients skin, so a detailed consultation with our doctors and in depth skin analysis is done before starting treatment to ensure the best results in lesser sessions.
Real Patients, Real Results
Came here to save myself from ongoing acne issue. Just a few sessions into the treatment and I can already see huge results!
Special thanks to Dr Semantha and Kim!
I had skin treatment laser here.
Very friendly, professional doctors and staffs. Highly recommended to come here and consult for any skin problems.
Professional and friendly service.
My face has cleared up from acute acne breakout after a course of facial treatment and medication.
My compliments to Dr. Semantha and her team.
I like the clinic environment and the services.
Dr Steve is very professional and keeps up to date with current beauty trends to provide the best solution to my skin problem, especially for my very sensitive skin.
Real Patients, Real Results
Sliq Clinic is established in 2014, by Dr Steve Chia, whom is no stranger in the aesthetic medical industry, as he is a trainer for numerous international brands throughout his years of experience.
M.B.B.S. (M.U.) 2007.
Sarawak General Hospital, Kuching from 2007-2009.
Miri General Hospital from 2009-2012.
American Academy of Aesthetic Medicine (USA) 2012, 2013.
Medical Director of SLIQ CLINIC 2014-present
Bachelor of Medicine, Bachelor of Surgery (M.B.B.S) from Manipal Academy of Higher Education
Melaka Manipal Medical College [Year 2009].
House Office and Medical Officer of Hospital Tengku Ampuan Rahimah, Klang as well as Hospital Tawau, Sabah [Years 2009 to 2015].
Certificate and Diploma in Aesthetic Medicine from American Academy of Aesthetic Medicine [Years 2017 and 2019].
Certificates in Bio-Identical Hormonal Replacement Therapy (BHRT-USA) [Year 2018].
Member of Malaysian Medical Association (MMA)
Member of American Academy of Aesthetic Medicine (AAAM)
Frequently Asked Questions
Does laser phototherapy has side effects?
As there are many lasers or similar products offered in market, its very important for patients to find out which laser is performed, and whether or not the operator is certified to perform such treatments. FDA approved and CE approved devices are tested with highest safety standards so in Sliq Clinic, we only provide such laser services to our patients.
However, there maybe some patients who may experience prolonged redness or skin dryness but it can be easily remedied with suitable skincare and aftercare.
This is why its important for patient to first undergo skinanalysis and to see if they are suitable for the treatment.
How long is the downtime?
Generally, laser for pigmentation provides zero to minimal downtime of 2-3 days. Depending on your pigmentation, and treatment nature, some patient may experience redness which goes away withing 1 hour post treatment.
In certain client where they have more severe pigmentation or scarring, doctor may perform treatment for this problem , expected downtime can be up to 2-3 days. This is why its important to let your treating doctor know if you have social functions next day of your treatment.
Does laser thins the skin or Makes it more sensitive?
Laser does not thins the skin. In theory, laser stimulates production of new collagen thus thickens skin. However, temporary redness is possible, but its easily remedied with appropriate post laser skincare. Do take note to show your doctor your products, as certain product may not be suitable during laser treatment such as physical exfoliants, or product containing BHA, AHA. Treatment protocol has to be followed to avoid unnecessary side effects.
What is the postcare or aftercare for laser sessions?
As a general rule of thumb, sunblock or sunscreen is necessary. Secondly we will recommend product that provide hydration and soothing to the skin to help with skin recovery. Sometimes clinic may recommend to use post laser product, this is to ensure and avoid unnecessary problem to patients.
Are all laser system in market the same?
As there are more than 100 laser manufacturer worldwide manufacturing many devices into the market, quality can be an issue as not every manufacturer spents on intensive R&D procedure. We advices only to choose FDA/CE approved devices for ensured safety profile. Secondly only do treatment with certified doctors and clinic.
Laser versus other options for treatment?
Surely there are many treatment in the market which also promises great results with pigmentations. However, laser provides both safety and effective results to our patients. Conventional technique such as IPL system, or chemical peel, may provide longer downtime for patient, that is why they are not very popular these days as compared to laser. However, not all laser are of the same quality and safety.
Can Melasma be treated as well using laser?
In our clinic, we use combination of technique for melasma, as melasma is a chronic skin disease, it may not be easily treated with just single therapy. Patients also need to be strictly avoidance of sun exposure and religious use of sunscreen and prescribed skincare to achieve the most lasting result. If you having melasma, you can consult with our experience doctors.
Besides laser, any treatment offered for pigmentation in Sliq Clinic?
For some mild cases, patients can be prescribe with topical skincares as well or offered skinbooster treatments. Laser is usually prescribe in moderate to severe cases. So book your appointment for a consultation with us first, each consultation will come with indepth skin analysis.
Visit OUR Clinic in KL or Petaling Jaya
SLIQ CLINIC (ARA DAMANSARA PJ)
F1-19, Oasis village, Jalan PJU 1A/7A, Oasis Damansara, Ara Damansara, 47301 Petaling Jaya, Selangor.
  +603 7490 7893 
 +60 17 277 5580
 Sliq Clinic Damansara
 Car park available underground B1 and around the mall area – Nearest LRT ARA Damansara 
 sliqclinic@gmail.com
 Monday – Saturday, 10am – 7pm
 Closed – Sunday & Public Holiday
SLIQ CLINIC (KL ECO CITY)
 L1-13, Kompleks Perniagaan, No. 3, Jalan Bangsar, KL Eco City, 59200 Kuala Lumpur Malaysia.
  603 2201 7727
012 772 7134
/
012 7727 458
 +6012 772 7134
 Sliq Clinic KL
Car park available at B1, B2 – Nearest LRT Abdullah Hukum
Sliqclinickl@gmail.com
 Monday – Sunday, 10am – 8pm
Schedule your Laser Pigmentation Treatment in Kuala Lumpur or Selangor today.
Connect With Us!
Get a detailed consultation with our certified doctors in KL and PJ.