Effective Tattoo Removal Technology in KL & Subang Clinic
Remove tattoo safely without scars today! Get access to Nano-Second & Pico-second Laser Combination.
Ready For Your Tattoo Removal? Book a Consultation Today!
WHY CHOOSE our medical laser to remove tattoo?
No Scars
The only clinically proven method of removing a tattoo WITHOUT scarring.
By using reputable laser system, complications such as scarring can be avoided.
Combination of New Laser Technology
Combination of Nano-second and Pico-second technology for superior outcome.
Advantage of combo treatment
1. Less tissue trauma
2. Faster clearance
3. Superior result
Focused Energy
Using focused energy generated by a laser, tattoo ink particle is shattered into smaller particles and can be removes by our own body, through lymphatic drainage systems
Individual Assessments
Number of Sessions is individually assessed, depending on different body parts, size and shape, colours if the tattoo, and this is why our doctors will have a consultation session for every patient.
We combine Pico- second and Nano-second technology for superior outcome
Advanced PICO Second Laser
Fotona Starwalker PQX Picolaser (USA, EU)
Being the latest innovative laser system, Fotona Starwalker PQX delivers highest energy and peak power, offering speed combined with precision in treatments. Picosecond laser pulses induce skin remodelling with fast recovery.
One of the things that makes the innovative StarWalker® PQX laser system stand out from the competition is that it delivers highest Pico Power & Energy, which, combined with its proprietary FracTAT capability for tattoo removal.
Picosecond laser technology such as the PQX is the perfect tool for effective skin pigment removal without damaging surrounding tissue and unwanted side effects. Picosecond laser pulses induce skin remodeling in a photoacoustic, completely non-thermal way, making it a very safe option for all skin types.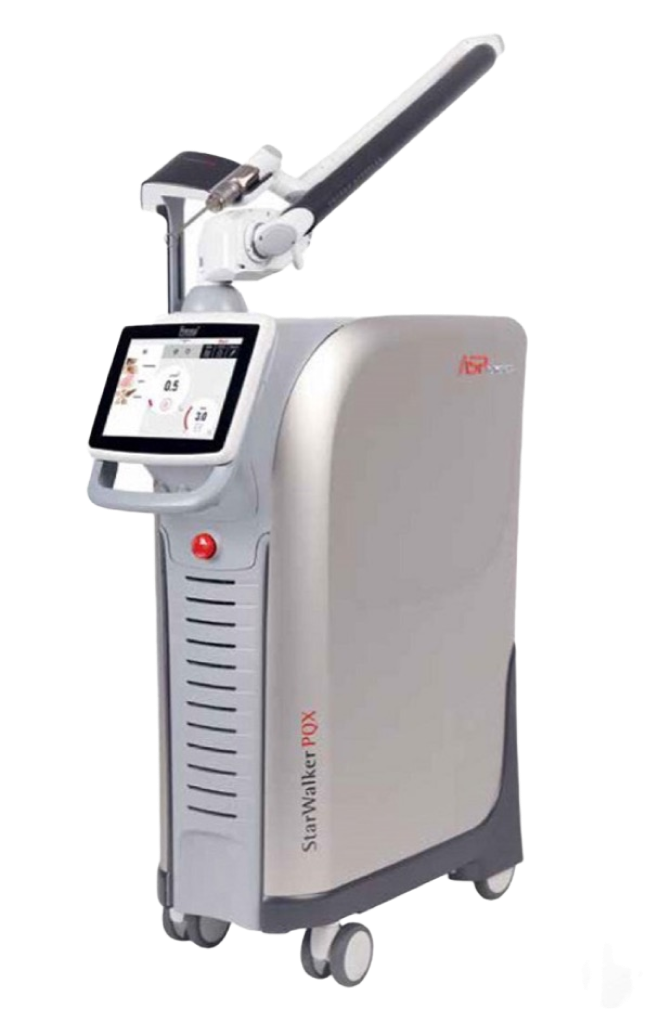 When the patented Fotona FracTAT procedure is performed, micro holes are first introduced into the skin using a fractional ablative laser handpiece.
Advanced QS-NDYAG Laser
cyanosure REVLITE (USA) & cyanosure mEDLITE C6 (USA)
Cyanosure MEDLITE C6 (USA)
Our laser system from USA, unlike other conventional lasers, offers minimal downtime and It is suitable for all skin types. Do not worry as you can still resume your normal daily activity even undergoing treatments.
Our center only offer FDA-approved laser systems, which is safe to effectively treat a wide variety of skin conditions with safety in mind. Modern lasers have low to no downtime, safe and do not cause a long-term side effect.
Rely on 1064nm and 532nm wavelengths for powerful non-ablative skin resurfacing, removing effectively colored and non-colored tattoo as well as other pigmented lesions including melasma.
Revlite provides proprietary PTP mode (PhotoAcoustic Technology Pulse™) mode which enables greater energy delivery by delivering two pulses microseconds apart which is designed to improve results and enhance patient comfort.
Real Patients, Real Results
Tattoo removal has worked fantastically and the staff are incredibly friendly and knowledgeable.
I'm so satisfied with the result of my tattoo removal and clinic staff are so kind and friendly 😻❤️
Dr Semantha was really professional, friendly and skillful,
Happy with the services done andd the staffs were all very friendly and helpful
Friendly staffs and experienced doctors. I have come here many times and have always been happy with their customer service. Dr. Steve and Dr. Semantha are both very friendly doctors and skillful in their practices. Recommended!
Truly appreciate the professionalism of the doctors and staff of Sliq Clinic. They go above and beyond to make your treatment sessions truly relaxing and fuss free.
Highly recommended.
Good service from the staff, relaxing premises. Dr Steve listened to my issues and provided good recommendations to target them specifically. Main point for me is that there was no "hard marketing" as per some other establishments I had experienced before, to take on additional treatments which I do not have to really need.
Award Winning Aesthetic Clinic
Sliq Clinic is established in 2014, by Dr Steve Chia, whom is no stranger in the aesthetic medical industry, as he is a trainer for numerous international brands throughout his years of experience.
Dr Steve Chia
M.B.B.S. (M.U.) 2007.
Sarawak General Hospital, Kuching from 2007-2009.
Miri General Hospital from 2009-2012.
American Academy of Aesthetic Medicine (USA) 2012, 2013.
Medical Director of SLIQ CLINIC 2014-present
Dr Semantha Chia
Bachelor of Medicine, Bachelor of Surgery (M.B.B.S) from Manipal Academy of Higher Education
Melaka Manipal Medical College [Year 2009].
House Office and Medical Officer of Hospital Tengku Ampuan Rahimah, Klang as well as Hospital Tawau, Sabah [Years 2009 to 2015].
Certificate and Diploma in Aesthetic Medicine from American Academy of Aesthetic Medicine [Years 2017 and 2019].
Certificates in Bio-Identical Hormonal Replacement Therapy (BHRT-USA) [Year 2018].
Member of Malaysian Medical Association (MMA)
Member of American Academy of Aesthetic Medicine (AAAM)
Frequently Asked Questions
How many sessions needed?
Typical laser removal sessions depend on many factors, including patients' skin type, tattoo location in which body parts, color vs non-colored tattoo, patients' general health condition, and also whether the tattoo is done immaturely or professionally. Due to many factors, the typical estimation for tattoo removal for Asian skin type is 8-10 sessions, as in Asian skin, the setting is based on research done for darker skin types, and settings will be applied to minimize chances of side effects
Why combination of picolaser and Qswitch laser?
Usuallly depends on tattoo color, or designs (line tattoo vs shading design), Our doctor may recommend to start with Q-switch laser for the first 3-5 sessions, then proceed with Picolaser.
This is due to the fact that Pico laser is more powerful and is usually not required when ink color is heavy or new, to reduce chance of possibility over delivery of impact to darker or newer tattoo.
That is why having multiple laser system give advantage to our doctors to get the best result considering patients safety as our upmost concern
What if I develop blistering?
Blister can be common especially if tattoo is new ( <1 year) or especially in patient who have coverup tattoo done (new over old tattoo)
Its also typical for certain darker colored ink
Apply post laser cream generously, and quick recovery and good hygiene will mean that healing of the tattoo removal will leave no scars.
In case where patients healing is slow, or complicated by infections due to poor hygiene, scarring is possible.
Do not poke or pick the blistering area, contact clinic if you need any help or advise during recovery period
What are the expected downtime?
Redness, swelling, blistering is common downtime for laser
Application of clinic recovery post laser product is mandatory, and avoidance of sun is needed to quicken recovery
Usually downtime is 5-7 days, depend tattoo size.
Typically, no medication is prescribed post tattoo removal
Laser usually repeated in 1 month, as to allow adequate skin healing.
What about the pricing for tattoo removal?
Will be charge based on size, our clinic charges price typically between RM400-800/ session.
Full assessment is needed in clinic, to get final pricing quotation, our clinic provides varies payment method, please contact for more information
Can I resume my daily activity post laser?
a. Normal daily activity can be continued,
b. No suntanning or extreme outdoor activity
c. No swimming and keep laser area dry.
d. Exercises are allowed.
What are the post care?
a. Maintain skin hydration, sunscreens
b. Apply post laser cream as prescribed
c. And keep area clean and dry
d. Laser is typically repeated in a months time, to let skin heal
All all laser the same?
a. We only recommend FDA or CE approved laser, to ensure patients safety.
b. As tattoo removal required multiple sessions, choosing your laser system is as important as choosing a reputable clinic or doctor to perform your treatments
c. This will ensure, tattoo removal does not leave scarring or other possible permanent side effects
What about colored tattoo?
Typically depend on which color, additional sessions maybe required.
Some patient may deveiped ittchyness or skin irritation post color tattoo removal, medication likes anti-inflammation or anti-histamine may be prescribed case by case basis.
Usually need more than 10 sessions for color tattoo, also depend on location and size of tatoo.
SLIQ CLINIC (SUBANG JAYA)
G-1, Lot 15, Jalan SS 16/1, SJCC, 47500 Subang Jaya, Selangor
+603 8605 3470
 +60 17 277 5580
Sliq Clinic Subang Jaya
Car park is available at basement
 sliqclinic@gmail.com
 Monday – Saturday, 10am – 7pm
 Closed – Sunday & Public Holiday
SLIQ CLINIC (KL ECO CITY)
 L1-13, Kompleks Perniagaan, No. 3, Jalan Bangsar, KL Eco City, 59200 Kuala Lumpur Malaysia.
  603 2201 7727
012 772 7134
/
012 7727 458
 +6012 772 7134
 Sliq Clinic KL
Car park available at B1, B2 – Nearest LRT Abdullah Hukum
Sliqclinickl@gmail.com
 Monday – Sunday, 10am – 8pm
Ready for Your Tattoo Removal?
Book a Consultation Today!
Get a detailed consultation with our certified doctors in KL and Subang.